FACULTY OPENINGS
message from our chief medical officer
"San Joaquin General Hospital's graduate medical education is one of the most prestigious programs in Northern California. Our training programs have successfully served California, and the nation with accomplished medical professionals. Our GME programs are built around strong research and clinical education components. We are an affiliate of U.C. Davis School of Medicine. San Joaquin County is situated in the hub of Northern California's world-leading medical research university hospitals. Our unique location, near the Silicon Valley, enables us to integrate the best technology with medical education and patient care.
"Bring your medical career to life at San Joaquin General Hospital."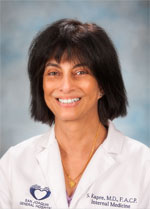 Sheela Kapre, M.D.
Chief Medical Officer
Faculty Openings
For The SJGH Residency Programs
CONTACT US
Thoracic Surgeon- Faculty Member Position Highlights
Academic Surgery Program at San Joaquin General Hospital is seeking an established BC thoracic Surgeon to integrate advanced technology, robotics, and introduce state-of-the-art techniques and surgical innovation into a general surgery residency training program. He will be expected to build upon and support a program of excellence for major and complex thoracic cases. The hospital is situated in Northern California close to Bay Area.
The candidate will join the Department of Surgery to provide teaching and consultation to an 80-year old General Surgery Residency Program with an established tertiary referral system. The hospital sponsors residency training programs in internal medicine and Family medicine in addition to general surgery. The Hospital is a major attraction for medical student rotations including a new medical school within 45 miles. The hospital is a high volume trauma center in Northern California and has seen major growth in several services, for example intervention radiology.
The Surgery department consists of 30 surgeons, 6 NPs and 6 divisions. There are 4 SICU certified trauma surgeons that provide in house trauma coverage 24/7. The institution trains residents in robotics with a dual console Xi Da Vinci robot and has a very active faculty in general surgery, vascular, ENT, urology, orthopedics and has the only neurosurgical service in the surrounding counties.
The position involves integration with the General Surgery Residency Training Program, with teaching of residents and medical students. The program is affiliated to the University of California at Davis.
To apply, please submit electronically curriculum vitae, a cover letter and three letters of reference.
Inquiries may be directed to Dinesh Vyas, MD (Program Director of the surgery residency program) or Sheela Kapre, MD (Chief Medical Officer)
dvyas@sjgh.org
skapre@sjgh.org
Tel : 209 468 6600