GRADUATE MEDICAL EDUCATION
Contact Us
For general information related to the GME Residency Program, you may contact: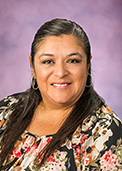 Denise Estrada, BSHA, CPCS
Residency Training Program Manager

destrada@sjgh.org
Ph (209) 468-6765
Fax (209) 468-6246
Denise Estrada has over 20 years of health care experience, specializing in medical staff organization and education. Prior to 12 years of experience at San Joaquin General Hospital, Denise worked professionally in medical staffing at other Central California hospitals and health providers.
Denise Estrada received a Bachelor of Science Degree from the University of Phoenix in Health Care Administration. Denise was born and raised in Stockton, she is active in the community and dedicated to the organization's mission and values that include preparing residents for their careers in medical practice.