life in Stockton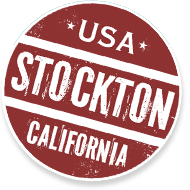 Stockton, California
Population: Over 700,000
Average Temperature Range: 74.3º High / 48.3º Low
International Airports: 4 within 58 - 87 miles
Domestic Airports: 7 within 7 - 113 miles
Major Cities & Attractions Near By:
Sacramento

| 48 min. | 49 miles

San Fransisco

| 1 hr. 24 min. | 83 miles

Napa Valley - Wine Country

| 1 hr. 41 min. | 78 miles

Yosemite National Park

| 2 hrs. | 97 miles

Monterey

| 2 hr. 17 min. | 147 miles

Lake Tahoe

| 2 hr. 42 min. | 169 miles
Residential Communities & Lifestyles
The communities of San Joaquin County (Stockton, Lodi, Manteca, Tracy and Lathrop) offer residents a unique choice of residential lifestyles. Whether it's an inner-city loft and condominium lifestyles, planned residential subdivisions with lakes, wine country living, open waterway lifestyles and other amenities or enjoy a rural country estate setting, San Joaquin County has it all.
Quality Education
The City of Stockton features a nationally respected private University- University of Pacific. Stockton also hosts San Joaquin Delta College, a fully accredited, two year Jr. College.  There are three University of California campuses an hours drive from Stockton and Stanford University is within a two-hour drive. Stockton also has a wide range of private parochial schools and a city funded K through 12 unified school system.
Rich in Culture
The City of Stockton has an accomplished Symphony Orchestra, a Civic Theatre, an Opera Guild and a well-respected Arts Commission.   Stockton is also home to the Haggin Museum which features one of the world's finest collection of Albert Bierstadt paintings, as well as, a complete collection of recognized oil paintings and early California art.