surgery research & innovation
Basic Science Research
Our department of surgery is endowed with a social commitment to enhance the science of today and develop surgical leaders.
We have a 2,000 square foot research laboratory with state-of-the-art equipment and technology.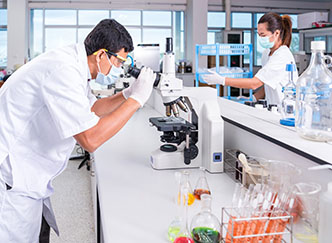 Projects
Currently in Development
Nanotechnology is the next generation technology and Dr. Vyas' laboratory has a strong working partnership with chemist in designing nanoparticles. His goal is to develop non-toxic nanoparticles with application in cancer and inflammation.
Vyas D, Castro P, Saadeh Y, Gandhi S, Lopez N, Vyas A. Gastrointestinal diseases and theranostic Nanoparticle, Journal of Biomedical Nanotechnology, 2014  (Impact Factor 7.2).
Saadeh Y, Vyas D. Nanorobotics: Current Status and Future Directions. American Journal of Robotic Surgery, Volume 1, Number 1, June 2014, pp. 4-11(8).
Saadeh Y, Vyas A, Vyas D. Breast cancer and theranostic nanoparticle, Journal of Nanoscience and Nanotechnology, Volume 14, Number 1, January 2014 , pp. 913-923(11).
Vyas D, L. S. Chaturvedi, Mohammad Eldakdouki, Marc Basson, Arpita Vyas, P. S. Mohankumar, Xuefei Huang. A Theranostic Nanoparticle/Curcumin Combination Decreases Doxorubicin-Induced Cytokine Production in MDA-MB-231 Breast Cancer Cells via IL-6/NF-kB pathway. Journal of Women's Health (Larchmt) (abstract). 2013.
Not Yet Available - Under Construction
Basic science of inflammation has major affects. Inflammation is a multi-dimensional molecular and cellular mechanism. Understanding inflammation and its interventions is the most complex process in human body.  Dr. Vyas has successfully published the role of inflammation in surgery, cancer, sepsis, trauma and other human processes.
Hollis M., Nair A, Chaturvedi LS, Vyas A, Gambhir S, Vyas D.   miRNA and colorectal cancer, WJG July 21, 2015, Volume 21, Issue 27.
Joshi SS, Vyas AK, Vyas D, Kalla R. Reclassifying inflammatory bowel disease with capsule endoscopy in children. J Pediatr (Rio J). 2013 Jul 12.
Vyas D, Javadi P, Dipasco PJ, Buchman TG, Hotchkiss RS, Coopersmith CM. Early antibiotic administration but not antibody therapy directed against IL-6 improves survival in septic mice predicted to die on basis of high IL-6 levels. Am J Physiol Regul Integr Comp Physiol. 2005 Oct; 289(4).
Vyas D, Robertson CM, Stromberg PE, Martin JR, Dunne WM, Houchen CW, Barrett TA, Ayala A, Perl M, Buchman TG, Coopersmith CM. Epithelial apoptosis in mechanistically distinct methods of injury in the murine small intestine. Histology and , 2007 Jun;22(6):623-30.