NEUROSURGERY
Neurosurgery Department
San Joaquin General Hospital's Department of Neurosurgery physicians consists of four highly experienced board certified neurological physicians. The Neurosurgery Department assists both the Hospital's Trauma Department, as well as, the Hospital's general census.
The SJGH Department of Neurosurgery is chaired by Moris Senegor, M.D. Dr. Senegor graduated from the University of Chicago's Pritzker School of Medicine and performed residencies at Tufts New England Medical Center, UCSF Medical Center and the University of Chicago Hospitals. He has over 30 years of practice experience in the field of Neurosurgery.
Neurosurgery is the diagnosis and treatment of patients with injury to, or diseases/ disorders of the brain, spinal cord and spinal column and peripheral nerves all within the many parts of the body. The specialty of neurosurgical care includes both adult and pediatric patients. Dependent upon the nature of the injury or disease a neurological surgeon may provide both surgical and non-surgical care.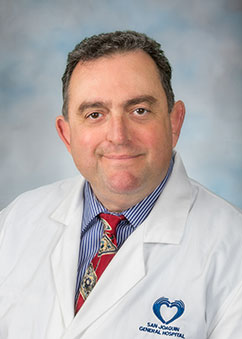 Moris Senegor, MD
Department Chair
faculty
Department of Neurosurgery