TRAUMA SURGERY
Trauma Surgery | Critical Care Department
San Joaquin General Hospital's Level III Trauma Center demonstrates on a daily basis an ability to provide prompt assessment, resuscitation, surgery, intensive care and stabilization of injured patients and critical care operations. Many of these critical care emergency cases are due to motor vehicle accidents, falls and gunshot wounds. Our Trauma Center is very active seeing between 200 - 300 cases per month.
The definition of a level III Trauma Center includes providing 24-hour immediate medical coverage by board certified critical care surgeons, neurosurgeons, orthopedic surgeons and specialty trained critical care nurse professionals. A Level III distinction also includes a comprehensive quality assessment program, a transfer agreement protocol for patients requiring more comprehensive care at a Level I or Level II Trauma Center. The Trauma Department also provides back-up care for rural and community hospitals, as well as, continued education of first responders and allied health personnels. SJGH also communicates prevention efforts and provides an active outreach program for its referring communities.
The SJGH Trauma Team is chaired by Dr. Frank Kennedy. Dr. Kennedy is a graduate of the Keck School of Medicine, University of Southern California with residencies at both USC Medical Center and The Good Samaritan Hospital.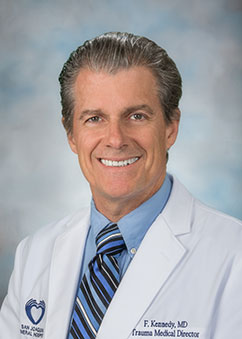 Frank Kennedy, MD
Department Chair
faculty
Department of Neurosurgery