GENERAL SURGERY RESIDENCY PROGRAM
Welcome

Our general surgery residency is a small, county hospital-based program. We currently graduate three chief residents each year. In addition to our complement of categorical residents we accept three preliminary interns each year.
The core of our residency program is a strong and longstanding partnership between three institutions: San Joaquin General Hospital (SJGH), St. Joseph's Medical Center (SJMC), and the University of California Davis Medical Center (UCD). SJGH is one of the few remaining county hospitals in the United States and the only designated trauma center (level II) for the 800,000 residents of San Joaquin County. SJMC is a 355-bed private hospital providing a wide array of advanced elective and emergency surgical care. And UCD is a world-class academic institution providing highly specialized oncologic, pediatric, and transplant surgical services. Our residency program is currently in a state of expansion, and in the following years additional training sites will be staffed by an expanded resident complement.
Our residents learn from a mix of general and fellowship-trained surgeons. At SJGH and SJMC our residents operate with general surgeons and specialists in trauma/surgical critical care, vascular, hepatopancreaticobiliary, minimally invasive foregut, thoracic, cardiac, and colorectal surgery. The general and specialist surgeons operate open, laparoscopically, and robotically at both institutions. Additionally, our residents frequently perform head and neck operations with ENT surgeons and elective kidney operations with a urologist, both robotic and open. We plan to add to this complement a bariatric and an additional vascular surgeon soon. And of course, at UCD we operate with fellowship-trained transplant and pediatric surgeons and surgical oncologists.
Many opportunities for research are available here, both based on locally collected data and on national databases. As a community program the opportunities for research are of course more limited than in a university setting, but many of our residents publish papers and present abstracts at local, regional, and national conferences, and the program fully supports them in these efforts. Our annual research symposium – held jointly with the SJGH general surgery, family medicine, and internal medicine residency programs as well as with the local orthopedic and emergency medicine residency programs – was lost for three years due to COVID but is scheduled to return in May 2023. For the enterprising resident interested in research and quality improvement work there is no shortage of opportunities here.
San Joaquin County and especially its central city of Stockton are amongst the most diverse places in the United States. SJGH exists primarily to serve the underserved in our county, and for that reason we feel strongly that our residency program should reflect the diversity of the community, as it does. Furthermore, because of our relatively small resident complement our residents are close friends and colleagues who rely on and depend upon each other for emotional support, mentorship, friendship, and much more.
The success of any residency program is born of a collective effort, the most satisfying kind. Being a resident here is both incredibly challenging and remarkably rewarding. If you are ready to work hard, serve the underserved, make lifelong friends, and get as much as possible out of your general surgery training then contact us about applying.
Sincerely,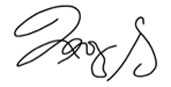 Feroze Sidhwa, MD, MPH, FACS
General Surgery Program Director
San Joaquin General Hospital